Heart Care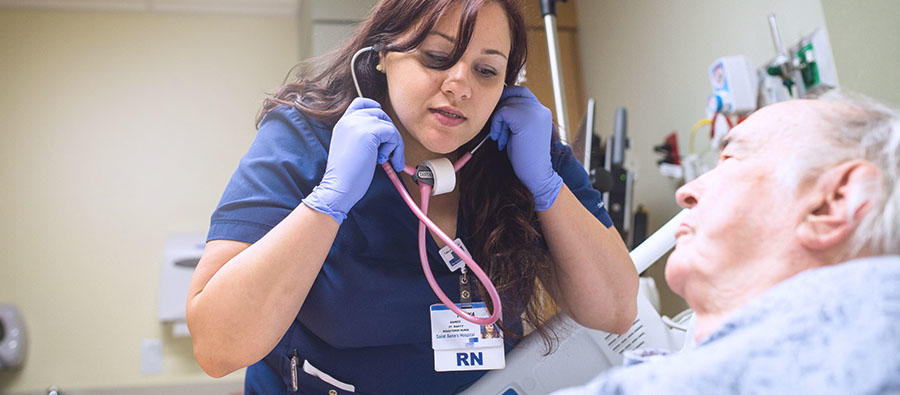 We are here to help you find what you need.
More than one out of three deaths in the US is caused by heart disease and stroke. Advances in cardiology and cardiovascular surgery are now saving thousands of lives, including the lives of many patients right here in Mesa, AZ.
At Mountain Vista Medical Center, physicians use advanced therapies and techniques like cardiac catheterization, balloon angioplasty, and radiofrequency ablation to treat heart problems. Additionally, Mountain Vista Medical Center is a Chest Pain Center and Cardiac Receiving Center.
We are a nationally certified Primary Stroke Center by DNV Healthcare and a recipient of the American Heart Association/American Stroke Association's Get With the Guidelines®-Stroke Gold Plus Quality Achievement Award. You may be able to reduce your risk for stroke and heart attack by scheduling a specially priced TripleView or HeartView Scan.
Using advanced diagnostic and imaging services in our Heart Care Center means faster diagnoses, faster treatments, and more peace of mind for our patients. 
HeartView Scan
The HeartView Scan is a non-invasive way to detect health problems before symptoms occur. The scan takes approximately 10 minutes and is performed on a state-of-the-art 64-slice CT scanner. This test measures the amount of atherosclerotic "plaque" in the coronary arteries. Plaque is the substance that builds within the walls of the arteries and can cause a heart attack if the arteries become blocked. Early detection is the key to treating heart disease. According to the American Heart Association, nearly 2,400 Americans die of cardiovascular disease each day – this is an average of one death every 37 seconds.
Facts about the HeartView Scan:
The HeartView Scan requires no advance preparation. A few electrodes are placed on the chest and you will breathe deeply as the scanner captures images of the beating heart and surrounding vessels.
The cost is $99 and no insurance will be filed (a physician's order is required). Just call 1-877-924-WELL (9355) to schedule a scan for yourself or a loved one.
The HeartView Scan will be reviewed by a board-certified cardiologist affiliated with Mountain Vista Medical Center. The screening report will be sent directly to you and your primary care physician if you provide the information at the time of the test. If your reports suggest that follow up is needed, we recommend you make an appointment with your primary care physician.
If at any time you experience chest pain or other warning signs of a heart attack, go to your nearest emergency room for immediate evaluation.
Who would benefit from a HeartView Scan?
People with a family history of stroke or heart disease
Diabetes patients
People 20 pounds or more overweight
People diagnosed with high blood pressure
Those with a sedentary lifestyle
Smokers
People diagnosed with high cholesterol
Males over age 40
Females over age 45
TripleView Screening
Knowledge is power—especially when it comes to heart health. Tens of millions of Americans have high blood pressure, blood clots, heart disease, and other risk factors for heart attack and stroke. Many have no idea.
At Mountain Vista Medical Center in Mesa, AZ, we offer answers. The TripleView Screening may offer early detection of heart conditions using ultrasound technology. This three-part screening package is painless, non-invasive, and uses no radiation. The test includes:
An ankle-brachial index test, which compares the blood pressure in your arm with the blood pressure in your ankle to identify peripheral artery disease.
A carotid ultrasound to identify carotid artery disease and stroke risk.
An abdominal ultrasound to identify an abdominal aortic aneurysm. 
These three tests evaluate blood flow through major arteries in three areas of the body, and may help find narrowed or blocked blood vessels. The results that are provided to you and your physician may be the first step in treating heart conditions and possibly preventing a future stroke or heart attack. This screening takes approximately one hour and does not require a prescription or order from your doctor.
Specially priced at $99, the TripleView Screening provides answers to your heart health questions. Contact us at 1-877-924-WELL (9355) to schedule your screening.
Conditions
Adult Congenital Heart Disease
Aortic Aneurysms
Arrhythmia
Blocked arteries (neck/carotid, heart/coronary, leg/peripheral)
Cardiomyopathy
Heart Attack
Heart Failure
Heart Valve Disease
Hypertension
Pulmonary Hypertension
Treatments
Arterial Color Flow Doppler
Arteriography
Cardiac Catheterization
Chest and Abdominal X-Rays
Echocardiography (Heart, Neck, Abdomen)
Electrocardiogram (ECG / EKG)
Intracardiac/Intravascular Ultrasound
Lab-Blood Tests · Nuclear Cardiology
Pacemaker and Defibrillator Checkup
Stress & Treadmill Testing
Resources
Man Up & Become Heart Smart

Knowing the signs of a heart attack can play a significant role in the possible outcomes and treatment as numerous heart attacks start slowly and may not even include chest pain.