Pain Management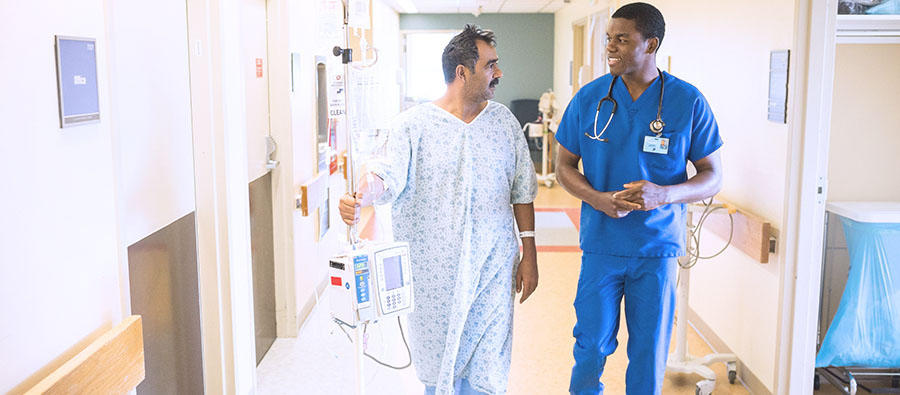 We are here to help you find what you need.
The American Chronic Pain Association reports that nearly three out of four Americans who suffer from daily pain have lived with their condition for more than a decade. For patients in Mesa, there's good news: You don't have to live with the pain.
At the Pain Management Center at Mountain Vista Medical Center, patients have access to a full range of experienced pain management professionals. This team includes board-certified and fellowship-trained pain management specialists, anesthesiologists, osteopathic practitioners, neurologists, specialized orthopedic surgeons, as well as a full nursing and support staff. 
There's no one-size-fits-all solution for any pain – especially when it's yours! The Center's pain management specialists treat virtually every kind of acute and chronic pain. 
Chronic Pain Quiz
While chronic pain can make you feel isolated from friends, family, and co-workers, you should know that you're not alone. It also affects your physical, mental, and emotional wellbeing—probably in more ways than you even realize. If you think that your condition might be classified as "chronic pain," our simple two-minute assessment can help you find out
Do You Have Persistent Pain?
Is your neck or back pain interfering with your ability to walk, sit, stand, sleep, or lift?
Does your pain often prevent you from doing activities that you would like to do?
Do you change positions frequently because you are uncomfortable?
Does your pain interfere with your ability to do routine chores at home?
Do you have difficulty getting in and out of a chair due to pain?
Does pain affect your personal relationships?
Does your pain limit the distance you are able to drive?
Have you been told that you have spinal stenosis, facet disease or complex regional pain syndrome/RSD?
Do you experience difficulty sleeping due to pain?
Have you had back surgery, yet has your pain persisted?
Do you ever feel a burning, shooting, searing pain in your arms and/or legs?
Do you experience numbness, tingling or odd sensations along with your pain?
If you answered "yes" to one or more of these questions, contact your insurance company to determine if you need a referral from your primary care physician for pain management services.
Conditions
Back Pain
Head & Neck Pain
Arm & Leg Pain
Body Wide Pain
Treatments
Opioid Medications
Vertebroplasty/Kyphoplasty
Medial Branch Block
Facet Joint Injection
Radiofrequency Neurotomy
Sympathetic Nerve Block
Peripheral Nerve Block
SI Joint Injections
Discogram
Spinal Cord Stimulator Implant
RACZ Caudal Neurolysis
Trigger Point Injections
Resources
Are You Sleeping in the Right Position

Did you know you can actually improve your health while you sleep? It's true. A good night's sleep is essential to achieving overall physical and emotional health. Millions of Americans suffer from some form of a sleeping disorder that can negatively impact their life so finding the right sleep position is important.