Mountain Vista Medical Center Is Nationally Recognized For Lifesaving Stroke Program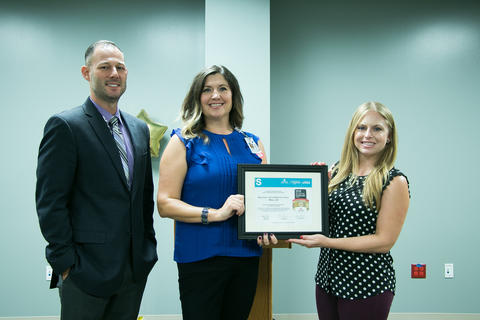 American Stroke Association Honors Mesa Hospital with Stroke Gold Plus Quality Achievement Award
MESA, Ariz. (Aug. 15, 2018) – Mountain Vista Medical Center, a primary stroke center in Mesa, has been nationally recognized by the American Stroke Association with a Get With the Guidelines Stroke Gold Plus Quality Achievement Award. The designation comes as a result of the life-changing impact and the positive outcomes it continues to achieve with its stroke protocol that is based on the latest research-based scientific evidence.
"We're collaborating with first responders and larger multidisciplinary teams to deliver high-quality patient care and improve patient outcomes," said Dr. Eric Cummins, Emergency Medical Director at Mountain Vista Medical Center. "In the case of strokes, timing is everything. I think of strokes as forest fires. They start small and affect a small area. Left unattended, this small fire can consume a forest in a short amount of time. Once the damage is done, it's irreversible. Our goal is to consistently provide the best care possible using cutting-edge medical resources to extinguish that fire and diminish the number of brain cells lost so we can salvage as much as possible." 
Mountain Vista Medical Center's protocol includes successfully implementing a national quality improvement initiative focused on reducing door-to-needle times for patients treated with the clot-busting medication tissue plasminogen activator (tPA), which is commonly used in stroke cases. The benefits of tPA in patients with acute ischemic stroke are time-dependent and can greatly affect a patient's outcome. 
Mountain Vista additionally received the association's Target: StrokeSM Honor Roll award. To qualify for this honor, hospitals must meet quality measures to reduce the time between the patient's arrival and treatment with tPA for ischemic stroke. 
Recognizing symptoms, equipping fast-acting medical response teams, and applying evidence-based guidelines are key to ensuring that a patient survives a stroke. Sixty-five-year-old Steven Waite's outcome from his recent stroke helps to reinforce the life-changing impact these protocols can have, and underscores why Mountain Vista Medical Center earned this honor. 
In April 2018, Waite, a pilot, flew his private plane from the state of Washington to Arizona to celebrate his 65th birthday with friends. Within minutes of arriving at his friend's house – and just an hour after landing – he suffered a stroke. First responders from Superstition Fire and Medical District, who were familiar with Mountain Vista Medical Center's stroke protocol, quickly determined Waite's FAST score, which measures key factors associated with stroke, such as facial droop, arm drift/weakness, slurred speech and time. 
"After confirming the stroke, first responders drew a blood sample to hand off upon their arrival to the hospital," said Dr. Cummins. "This allowed us to begin testing immediately, shaving 20 to 30 minutes off of the wait time for results. While samples were being tested, we were able to concurrently evaluate Mr. Waite and run a CT scan."
Upon completion of the scan and lab results, Altaplase was administered within 26 minutes of Waite's arrival. Because of Mountain Vista Medical Center's protocols and collaborative team approach, Waite suffers weakness in his right leg and some fine motor deficits, but continues to grow stronger each day. 
"Strokes are the fifth-leading cause of death in the U.S.," said Dr. Cummins. "For patients in a life-and-death situation, this is the advantage of coming to Mountain Vista Medical Center. This is what we do. Any time, day or night, we're ready to help stroke patients."
Designated as a primary stroke center in 2011, Mountain Vista Medical Center has specialized resources and processes to care for acute stroke patients and is held to the highest standards by the DNV and state-level policy standards. The hospital has been implementing the American Heart Association and American Stroke Association's programs for seven years. 
Get With The Guidelines® is the American Heart Association/American Stroke Association's hospital-based quality improvement program that provides hospitals with tools and resources to increase adherence to the latest research-based guidelines. Developed with the goal of saving lives and hastening recovery, Get With The Guidelines has touched the lives of more than 6 million patients since 2001. For more information, visit heart.org.
Mountain Vista Medical Center, part of Steward Health Care, is a 178-bed, full-service hospital located north of the U.S. 60, at Crismon Road and Southern Avenue in Mesa. Designed to provide comprehensive health care services for residents of the East Valley, the hospital features all-private rooms and advanced medical technologies. Mountain Vista Medical Center is accredited as a Primary Stroke Center, Chest Pain Center, and a Level III Trauma Center. The hospital also features a Cardiac Receiving Center. Mountain Vista Medical Center is an Official Health Care Partner of the Phoenix Suns and Phoenix Mercury. For more information, visit mvmedicalcenter.org or call (480) 358-6450. 
Steward Health Care, the largest private, for-profit hospital operator in the United States, is a physician-led health care services organization committed to providing the highest quality of care in the communities where patients live. Headquartered in Boston, the company employs approximately 40,000 health care professionals. Steward operates 38 community hospitals in states across the U.S. – including Arizona, Arkansas, Florida, Louisiana, Massachusetts, Ohio, Pennsylvania, Texas, and Utah – and one hospital in the country of Malta. The Steward network also includes more than 25 urgent care centers, 42 preferred skilled nursing facilities, substantial behavioral health services, more than 7,300 beds under management, and approximately 1.5 million full-risk-covered lives through the company's managed care and health insurance services. The total number of paneled lives within Steward's integrated care network is projected to reach 3 million in 2018. Steward's Health Care Network includes thousands of physicians who help to provide more than 12 million patient encounters per year. Steward Medical Group, the company's employed physician group, provides more than 4 million patient encounters per year. For more information, visit steward.org.
# # #