MVMC General Surgery Residency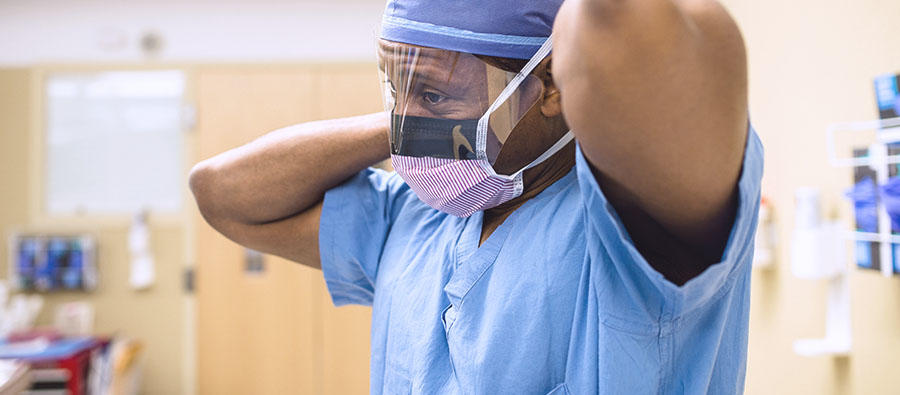 General Surgery Residency Program
The General Surgery Residency Program at Mountain Vista Medical Center combines high-quality faculty and a high-technology setting to deliver first-class training experiences for General Surgery Resident trainees and medical students.
Mission
The mission of the Mountain Vista Medical Center General Surgery Residency program and is to provide the cognitive and procedural skills necessary to graduate superiorly trained surgeons. Resident trainees will be provided with opportunities to learn in multiple settings with focus on continuity of didactic and clinical experiences that will enable the trainee to become proficient in the examination, diagnosis and treatment of surgical patients, while integrating osteopathic principles and practices as they relate to the specialty.
Residency Program Goals
Education goals of this residency program will be guided by the American College of Osteopathic Surgeons. Goals for this program will be to ensure trainees master the Seven Core Competencies as outlined in the ACOS Basic Standards. The teaching faculty of this program is committed to train and supervise each resident trainee in the field of general surgery.
Additionally, resident trainees will be presented with comprehensive cognitive and procedural clinical education in both the inpatient and outpatient settings that will enable them to become competent, proficient and professional osteopathic physicians. After satisfactory completion of five years of general surgery, resident trainees will be eligible to sit for the certifying examination conducted by the American Board of Osteopathic Surgeons (ABOS).
Interview Process
All audition rotations will be limited to two-week blocks only. Students will need to complete the Rotation Request form and submit it to Medical Education for processing. Medical Education will send out a confirmation email outlining what documentation is required to be submitted by the student.
Audition rotations will be re-evaluated to ensure students meet the Residency Interview criteria. Failure or unavailable scores for COMLEX I, COMLEX II CE, COMLEX II PE may result in cancellation of audition rotation. Review of current ERAS application will be done 30 days prior to rotation beginning. No applicant will be ranked until all scores are made available.
All students are required to participate in one student orientation each academic year. Orientation will be held on the first day of rotation. First day instructions will be emailed to you two weeks prior to rotation beginning.
Curriculum
The curriculum is designed to provide the most general surgical exposure possible, allowing residents to develop and sharpen their knowledgebase and surgical skill set. Regularly scheduled formal organized didactic series will be held along with morning report and a monthly journal club. Didactic topics will be determined by a systems approach with each month integrating all aspects of surgical medicine and osteopathic principles.
Rotations will be structured to provide exposure to the management of both pre- and post-operative patients and surgical subspecialties not offered at Mountain Vista Medical Center. While the majority of rotations will be completed at Mountain Vista Medical Center, rotation subspecialties not offered at the hospital will be completed at the offices of various local physicians or other teaching facilities. The General Surgery Program Director has the final determination on such changes.
Educational Opportunities
We offer a wide variety of educational opportunities throughout residency including:
Daily teaching rounds
Weekly didactics
Weekly board review
Quarterly grand rounds
Weekly morbidity and mortality conferences
Monthly journal club
Quarterly hands on osteopathic manipulative medicine seminars
Clinical Schedule
| | | | | | |
| --- | --- | --- | --- | --- | --- |
| Rotation | OGME1 | OGME2 | OGME3 | OGME4 | OGME5 |
| General Surgery | 4Mo | 8Mo | 9Mo | 8Mo | 9Mo |
| Anesthesia | 1Mo |   |   |   |   |
| Burn Surgery |   |   |   | 1Mo |   |
| Emergency Medicine | 1Mo |   |   |   |   |
| ENT | 1Mo |   |   |   |   |
| General Internal Medicine | 1Mo |   |   |   |   |
| Gynecology |   | 1Mo | 1Mo |   |   |
| Internal Medicine Block Nights | 1Mo |   |   |   |   |
| Internal Medicine Critical Care | 1Mo |   |   |   |   |
| Orthopedics |   |   | 1Mo |   |   |
| Pediatric Surgery |   |   |   |   | 1Mo |
| Plastic Surgery |   |   |   |   |   |
| Radiology | 1Mo |   |   |   |   |
| SICU |   | 1Mo |   | 1Mo |   |
| SICU Trauma |   |   |   | 1Mo |   |
| Surgical Block Night |   | 1Mo | 1Mo |   |   |
| Urology | 1Mo |   | 1Mo |   |   |
| Vascular Surgery |   |   |   | 1Mo | 2Mo |