MVMC Internal Medicine Residency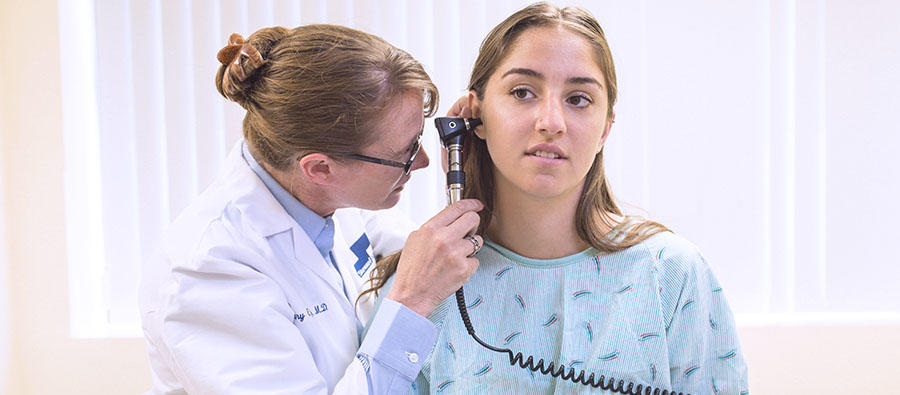 Internal Medicine Residency Program
The Internal Medicine Residency Program at Mountain Vista Medical Center is a comprehensive program with a focus on didactics and hand-on experience with a broad range of pathology to develop excellence, confidence and compassion to practice Internal Medicine in the community.
Mission
The mission of the Mountain Vista Medical Center Internal Medicine Residency program and institution is to provide broad exposure, training and expertise to our residents through a comprehensive array of Internal Medicine clinical presentations and participation in a well-rounded educational curriculum. This program is designed to produce fully competent physicians, who are capable of providing high-quality patient care and will be well-prepared graduates for postgraduate work and employment in rural and metropolitan areas.
Residency Program Goals
Education goals of this residency program are guided by the Accreditation Council for Graduate Medical Education (ACGME). Goals for this program will be to ensure trainees master the Core Competencies as outlined in the ACGME. The teaching faculty of this program is committed to train and supervise each resident trainee in the field of Internal Medicine.
Interview Process
All audition/sub-i rotations will be limited to two-week blocks only. Students will need to complete the Rotation Request form and submit to Medical Education for processing. Medical Education will send out a confirmation email outlining what documentation is required to be submitted by the student.
Audition/sub-i rotations will be re-evaluated to ensure students meet the Residency Interview criteria. Failure or unavailable medical student Level I and Level II medical student training examinations may result in cancellation of audition/sub-i rotation. Review of current ERAS application will be done 30 days prior to rotation beginning. No applicant will be ranked until all scores are made available.
All students are required to participate in one Student Orientation each academic year. Orientation will be held on the first day of rotation. First day instructions will be emailed to you two weeks prior to rotation beginning.
Curriculum
The curriculum is designed in the traditional Internal Medicine training format to teach a complement of current medicine in suburban settings, and will model that of the Internal Medicine Core Curriculum. Regularly scheduled formal organized didactic series will be held along with Morning Report and a monthly journal club. Didactic topics will be determined by a systems approach with each month integrating adolescent medicine, internal medicine, cardiac, radiologic and dermatologic. The volume of clinical responsibilities will not compromise the educational atmosphere of the program, as Resident trainees will work in a number of clinical settings.
Rotations will be structured to provide exposure to the management of both inpatient and outpatient subspecialties not offered at Mountain Vista Medical Center. While the majority of rotations will be completed at Mountain Vista Medical Center, rotation subspecialties not offered at the hospital will be completed at the offices of various local physicians or other teaching facilities. The Internal Medicine Program Director has the final determination on such changes.
Ambulatory Continuity Clinic
Resident trainees will be scheduled in the ambulatory continuity clinic half-day during the PGY-1 through PGY-3 training years. Trainees will each develop their own panel of patients and will follow them throughout the three years of residency. Continuity Clinic is conveniently located next to Mountain Vista Medical Center in the Medical Office Building.
Educational Opportunities
We offer a wide variety of educational opportunities throughout residency including:
Daily teaching rounds
Weekly didactics
Weekly Harrison's Club and/or board review
Quarterly grand rounds
Monthly morbidity and mortality conferences
Monthly journal club
Quarterly hands-on osteopathic manipulative medicine seminars
Clinical Schedule
1st Year Resident: Cardiology, Emergency Medicine, Internal Medicine (four months), ICU, General Surgery, Women's Health. Selectives in Psychiatry, Internal Medicine Block Night and Radiology. *Selectives are chosen by the Internal Medicine Residency Program Director and are meant to provide a broader knowledge base to ensure a well-rounded Resident.
2nd Year Residents: Endocrinology, Hematology/Oncology, Pulmonology, ICU, Nephrology, Internal Medicine Block Night, Internal Medicine (five months) and an elective month.
3rd Year Residents: ICU, Gastroenterology, Neurology, Rheumatology, Internal Medicine Block Night, Infectious Diseases, Internal Medicine (four months) and an Elective Month.
*Electives are chosen by the trainee with approval by the Internal Medicine Residency Program Director.
Residents assigned block night rotations will participate in a minimum of five hours of structured education per week (journal clubs, didactics, reading assignments, etc.).