Mountain Vista Medical Center Invests $1.2 Million in Robotic Surgery System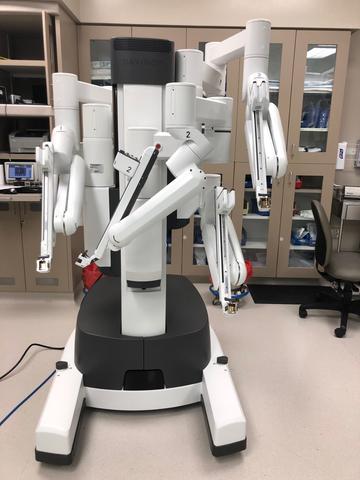 Mountain Vista Medical Center is pleased to announce the advancement of its surgical services program with the recent acquisition of a $1.2M da Vinci® X Surgical System. This cutting-edge technology establishes Mountain Vista as a leader in the field for minimally invasive, multi-quadrant surgery and demonstrates the hospital's commitment to enhancing surgical outcomes and providing high quality healthcare services to its patients.
"We can now provide a minimally invasive surgical approach for a wide range of patients and surgical complexities," said Manisha Purohit, MD, Steward Medical Group Women's Health Associates OB/GYN. "Gone are the days of a long painful recovery from an open traditional hysterectomy or myomectomy; our patients now can take advantage of this start-of-the-art robotic surgery system and undergo the most complex pelvic surgeries  which require only a few tiny incisions that are only one-third of an inch in size."
Considered one of the most dynamic tools for robotic surgery in the world, the da Vinci Surgery System delivers a high degree of fidelity and precision in the control of surgical instruments. Operated by a trained surgeon – who is in full control throughout the procedure – utilizing dedicated equipment, the system improves comfort for both patients and surgeons alike.
"The techniques available with the system result in significantly reduced post-operative pain, very small incisions, little to no blood loss, much quicker recovery, and a significantly less aggressive opioid pain medication regimen," said Denise Hackett, Mountain Vista Medical Center chief nursing officer and interim CEO. "We can typically send patients home the same day or the morning following a procedure."
In addition to gynecological procedures, the new generation of the da Vinci X robotic surgical system will provide minimally invasive surgical options for patients who have prostate cancer, herniation, bariatric surgery and general surgery.  Depending on the type of surgical procedure performed, the surgery can be performed in as little as an hour, with a hospital stay of 24 hours or less.
"The da Vinci X System is just one of several technologies we offer to provide the best possible care for our patients," Hackett stated. "The combination of our advanced tools and technology, and the outstanding ability of our medical team is what helps us achieve positive outcomes."
For more information about da Vinci X Surgical System, visit intuitivesurgical.com. For more information about Mountain Vista Medical Center and its surgical services, please visit mvmedicalcenter.org