Patrick Dunn Selected New Mountain Vista Medical Center and Florence Hospital Chief Nursing Officer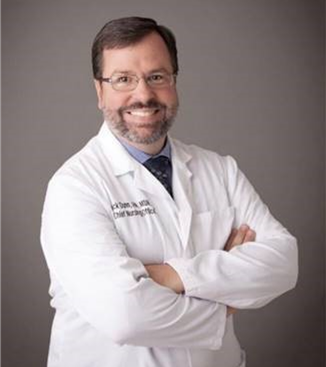 Mountain Vista Medical Center and Florence Hospital, both Steward family hospitals, have selected Patrick Dunn, RN, MSN/MHA, as their new chief nursing officer. Dunn will be instrumental in aligning clinical best practices across the affiliated hospitals, and responsible for decisions related to patient safety and clinical quality.
"Patrick's nursing leadership experience, along with his dedication to supporting our nurses while providing the highest quality of care to our patients made him the perfect choice for the chief nursing officer position," said Damon Brown, President of Mountain Vista Medical Center and Florence Hospital, as well as the Arizona Market President for Steward Health Care. "Our growth and clinical accomplishments will only further be strengthened with such leadership."
Dunn comes to Steward from Alliance Health Midwest City, Midwest City, Oklahoma an affiliate of Community Health Systems where he most recently served as chief nursing officer.  There, he improved quality initiatives, CMS scores, established best practices for nursing and clinical services and engaged in collaborative leadership with medical management.  He has held various nursing roles over the past 26 years, including nurse manager, nursing director, nursing project manager, associate chief nursing officer and chief nursing officer for the last nine years.
Patrick received a diploma of certificate in practical nursing from Utah Valley University in Orem, Utah. He earned a Bachelor of Science Degree in Zoology-Human Biology from Brigham Young University in Provo, Utah, and received Master of Science degrees in Nursing and Hospital Administration from the University of Phoenix in Phoenix, Arizona.
"My goal is to establish nursing practice in a matter that is exceptional in patient safety, patient satisfaction, employee satisfaction and provider satisfaction, all with the centered goal of serving the East Valley community," said Dunn.
Dunn and his wife, Maria have four grown children and two grandchildren that they love spending time with. He enjoys home remodeling, woodworking and auto restoration, and is passionate about volunteering. Patrick has served as a scout master, member of his church leadership team and has helped support community efforts around the homeless, food pantries and nursing care.