Mountain Vista Medical Center Implants First Leadless Pacemaker in the East Valley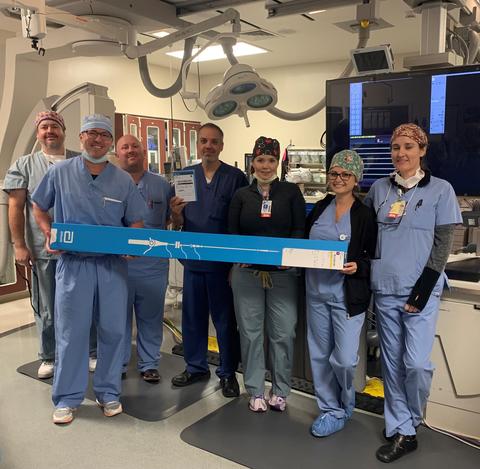 Mountain Vista Medical Center, a Steward Health Care Family Hospital, has implanted the region's first single-chamber leadless pacemaker that offers the world's only unique mapping capability for seamless implantation and retrieval. This state-of-the-art cardiovascular technology is only available at Mountain Vista in the East Valley.
"It's just one more cutting-edge procedure offered as part of Mountain Vista's top-notch cardiovascular services program," said Himanshu Shukla, M.D., F.A.C.C. and founder of the Cardiac Arrhythmia Institute.
The Aveir™ VR leadless pacemaker is inserted through groin and is retractable, making the ongoing care of the device much easier for the patient, as well as cosmetically attractive with not having the traditional wires and hardwire. The battery life is twice as long as the current leadless pacemaker which reduces the number of procedures needed to maintain the device, lowering infection risk for the patient.
Shukla implanted the hospital's first Aveir pacemaker last week and patient Harry Bowman couldn't be more grateful.  Recently diagnosed with atrial fibrillation, congestive heart failure and sleep apnea, Harry was told he was a great candidate for the new pacemaker and that it would help him keep up with his active lifestyle. A very busy 87-year-old who didn't want to stop living life and doing his volunteer work, he was excited to be a recipient.
"It's great to be one of the first people in the East Valley to have access to this new technology," said Bowman. "I'm feeling great and happy that there haven't been all the traditional restrictions that you normally have with the implant of a pacemaker. I'm already back to my old self."
Mountain Vista Medical Center is a nationally certified primary stroke and cardiac receiving center.  For more information about Mountain Vista Medical Center and its cardiology service program, please visit mvmedicalcenter.org.