Mountain Vista Earns Prestigious DNV Certification for Joint Replacement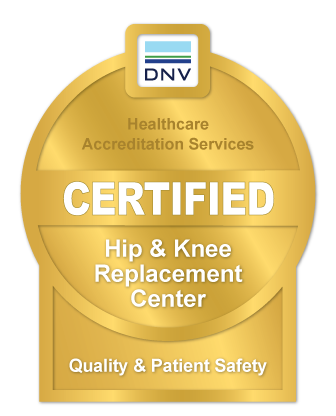 Mountain Vista Medical Center, a Steward family hospital, announces it has received Advanced Hip & Knee Replacement Certification from DNV, demonstrating the hospital's excellence in orthopedic care, from initial diagnosis to high-quality patient outcomes.
"Advanced Hip & Knee Certification lets our community know we have the resources and commitment to provide the best possible care for Hip and Knee replacement," said Damon Brown, Steward Health Care Arizona Market President and Mountain Vista Medical Center President. "The community can be confident that we have the right equipment, personnel and training to exhibit excellence in orthopedic surgery within the scope of Hip and Knee Replacement from diagnosis to treatment, education, and rehabilitation. Achieving this certification validates all the effort we have put into this program to ensure the health and safety of our patients."
The DNV Advanced Hip and Knee Replacement Certification requirements are informed by the ERAS® Society Orthopaedic guidelines, the guidelines of the American Academy of Orthopaedic Surgeons and relevant requirements of the CMS Conditions of Participation for Hospitals.
"Achieving certification shows commitment to excellence," says Kelly Proctor, President of DNV Healthcare USA, Inc. "It helps demonstrate to your community that you are performing at the highest level."
Hip and knee replacements are among the most popular surgeries performed today and are expected to be in demand even more in coming years, according to the American Academy of Orthopaedic Surgeons.