Stroke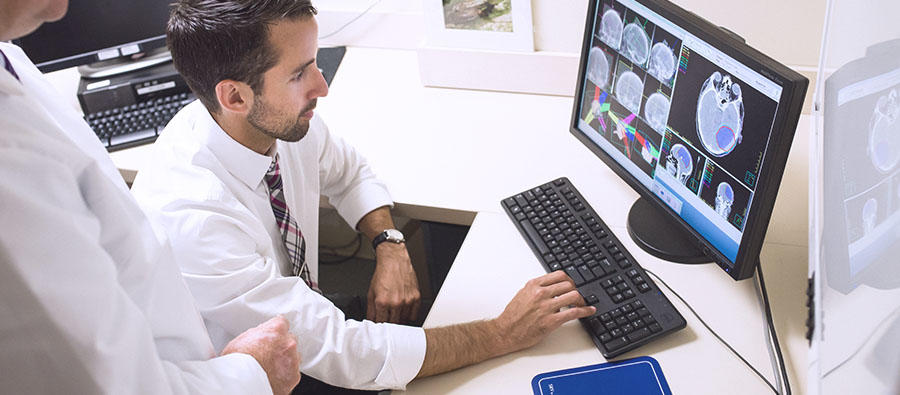 We are here to help you find what you need.
If you experience a neurological disorder such as stroke, brain tumors, ALS, sleep disorders, spine injuries, chronic pain or multiple sclerosis, our neurological specialists will use the most advanced equipment available to provide diagnosis and treatment.
Facial drooping, arm weakness, or slurred speech? These are possible stroke symptoms. Act fast. Call 911 immediately!
Nationally Certified Primary Stroke Center
Mountain Vista Medical Center is a nationally certified Primary Stroke Center by DNV Healthcare. This means that our experienced team of nurses and physicians on the medical staff has been trained with industry-leading guidelines, which shape our approach to providing high-quality stroke care and treatment. Our goal is to improve the long-term quality of life for stroke patients in all that we do.
Advanced Stroke Care In Mesa, AZ
As a designated stroke receiving facility, we have a dedicated "stroke team" that is called into action the moment we know a stroke patient is on the way. We have 24/7 coverage for important diagnostic procedures such as CT angiography, cerebral angiography, and diffusion and perfusion MRI. These services assist physicians in making informed diagnosis and treatment decisions.
Target: Stroke Honor Roll Elite
Additionally, we participate in the American Heart Association/American Stroke Association's Get With The Guidelines®–Stroke program and are proud recipients of the Gold Plus Quality Achievement Award. The goal of the program is to improve the overall quality of care for stroke patients by improving acute stroke treatment and preventing future strokes and cardiovascular events.
Mountain Vista Medical Center – Fast Facts
We have been ranked Target Stroke Honor Roll Elite, the highest award a Primary Stroke Center can achieve, for four consecutive years (2020)
We have received the Gold Plus Quality Achievement award for eight consecutive years (2020)
Our door-to-treatment times exceed national standards
In the first half of 2020, 100 percent of stroke patients receiving tPA were treated within 15-60 minutes of arrival (Three out of four patients received tPA in less than 45 minutes)
What is a Stroke?
A stroke is an attack on the brain—similar to a heart attack. Stroke affects the arteries leading to and within the brain. It is the third cause of death in the United States. A stroke occurs when a blood vessel carrying oxygen and nutrients to the brain is either blocked by a clot or bursts. When this occurs, part of the brain begins to die.
Signs of a Stroke
Stroke is a medical emergency. Sudden warning signs include:
Numbness or weakness of the face, arm or leg, especially on one side of the body
Confusion, trouble speaking or understanding
Trouble seeing in one or both eyes
Trouble walking, dizziness, loss of balance or coordination
Severe headache with no known cause
If you experience or observe any of these signs in someone else, call 911 immediately.
Check the time so you'll know when the first symptoms appeared. A clot-busting drug called tissue plasminogen activator (tPA) may reduce long-term disability for the most common type of stroke if it is administered within three hours of the start of symptoms.
Risk Factors
You can't change factors related to heredity or natural processes, but those resulting from lifestyle or environment can be modified with the help of a health care professional.
What risk factors for stroke can't be changed?
Age: The chance of having a stroke approximately doubles for each decade of life after age 55
Heredity (family history) and race
Gender
Prior stroke, mini-stroke, or heart attack
 
What stroke risk factors can be changed, treated or controlled?
High blood pressure
Cigarette smoking
Diabetes mellitus
Carotid or other artery diseases 
Atrial fibrillation
Other heart diseases
Sickle cell disease (also called sickle cell anemia)
High blood cholesterol
Poor diet
Physical inactivity and obesity
 
You may be able to reduce your risk for stroke and heart attack by scheduling a specially priced TripleView or HeartView Scan.